FOREIGN THEORY AND PRACTICE
AIRPLANES ARE THE SAFEST MEANS OF TRANSPORT FOR BOTH PASSENGERS AND INSURERS
Abstract
Uprkos rekordnom broju od preko četiri milijarde avionskih putnika širom
sveta u 2019. godini, statistika pokazuje da avio-letovi nikad nisu bili bezbedniji.
To su podaci iz izveštaja "Avio-rizici 2020: bezbednost i stanje nacija", koje
je objavila "Allianz Global Corporate & Specialty" (AGCS), fi rma specijalizovana za
osiguranje avio-industrije u saradnji sa Embry-Riddle Aeronautical University, najvećim
akreditovanim univerzitetom za oblast avijacije i pitanja avio-prostora. Poslednje tri
godine, od 2016. do 2020, najbezbednije su u istoriji avijacije. Na primer, 2017. nije
se dogodila nijedna nesreća s fatalnim posledicama za putnike u avionima, a to se
desilo prvi put za 60 godina, i zato je to čini najbezbednijom godinom otkako postoje
avionski letovi. Čak se i 2018. godina, u kojoj je bilo 15 avio-nesreća sa 556 ljudskih
žrtava, računa kao treća na listi najbezbednijih godina, dok je 2015. na drugom mestu.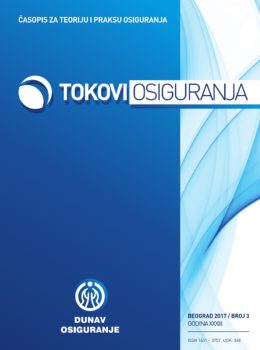 UDK:628.065(1-87):656.12:379.858:638.97:347.463:347.426.6:368.025.8: 311:636.082
Vodinelić, MA Ana
AIRPLANES ARE THE SAFEST MEANS OF TRANSPORT FOR BOTH PASSENGERS AND INSURERS
Page: 97-98