Professor Njegomir, Vladimir PhD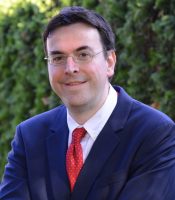 Vladimir Njegomir was born in Novi Sad in 1977. He graduated bachelor's, master's and doctoral degrees in the field of risk management, insurance and reinsurance. In 2001, he was awarded as the best student in the generation at the Faculty of Economics in Subotica. In 2009, he obtained PhD in technical sciences in the field of industrial engineering and management (management in insurance) at the Faculty of Technical Sciences, University of Novi Sad. In 2016, for his doctoral thesis in the field of insurance, he was conferred PhD in Economic Sciences at the United Nations University for Peace.
He worked in a London-based finance software company for nine years and was tasked with the analysis of finance sector, particularly in the field of risk management, insurance and reinsurance. He was employed in Dunav Insurance Company as an advisor for strategic planning, corporate governance, and business analysis.
In 2010, he was appointed Assistant Professor lecturing on the subject of insurance and insurance risk management at the Faculty of Law and Business Studies "Dr Lazar Vrkatić". Since 2014/2015 academic year, he has been lecturing on the subject of Entrepreneurship. In 2014, he was appointed Vice Dean for Research and Deputy Head of the Department for Business Economics. In 2016, at the same Faculty, he was appointed Associate Professor. For his scientific research, in 2011, he was awarded by the National Bank of Serbia.
With his research papers in the field of entrepreneurship, risk management, insurance and reinsurance, he participated in scientific and professional conferences home and abroad. In addition to eight books that he co-authored (Basics of Insurance and Reinsurance, Reinsurance, Insurance: Economic Principles, Insurance: Economic and Legal Principles, Economics of Insurance, Insurance Companies in the Role of Institutional Investors, Claims Management in Insurance and Climate Changes and Agriculture Insurance), and was a sole author of four books (Insurance, Insurance and Reinsurance: Traditional and Alternative Approaches, Entrepreneurship, and Risk Management in Insurance and Reinsurance). He published more than 150 scientific and professional papers in the field of risk management, insurance and reinsurance. His papers are published in the renowned scientific journals such as The Geneva Papers on Risk and Insurance – Issues and Practice, Transformations in Business & Economics, Economic Thought and Practice, Economic Research and Economic Annals, and leading professional journals in the field of risk management, insurance and reinsurance.
He is an editor-in-chief of a scientific journal Civitas, a member of the editorial board of the journal Svet osiguranja, and a member of the Balkan Scientific Association of Agrarian Economists and the International Insurance Society. He is fluent in the English language.